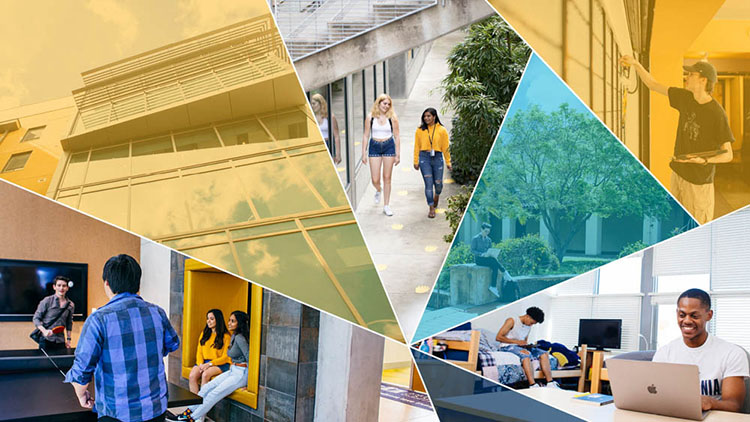 Welcome to UC Berkeley!
Cal Housing wants to offer a warm welcome to you and a digital introduction to your campus housing options.
Click links below to jump to location on page:
Visit Us at Cal Day and Cal Week
Housing Assignment Policies
For the 2023-24 academic year:
Incoming first-year students are guaranteed to receive a housing offer for their first year, provided they apply on time and meet all deadlines and eligibility conditions as noted below.
Incoming transfer students will receive housing priority for their first year, provided they meet all deadlines and eligibility conditions as noted below. Availability (especially of apartments) may be limited by the time transfer students apply, so we recommend that transfer students also explore off-campus options as a back-up in the event we are unable to give them an offer for on-campus housing.
All incoming undergraduate students with dependents will receive housing priority in our family student housing, University Village.
Guarantee and Priority Conditions
In order for the above policies to apply, you must:
Meet all UC Berkeley and Cal Housing deadlines.
Adhere to all Terms and Conditions of the housing contract and residential policies.
Have flexible housing preferences (choose "any room, any location" as one of your housing preferences). The Housing Guarantee and Housing Priority do not ensure any specific room type, location or amenity. 
Visit Us at Cal Day and Cal Week
Visit Us In Person on Cal Day: Newly admitted students and their families are invited to Cal Day, where you can explore UC Berkeley's campus, discover resources, and meet our vibrant community. Cal Day is Saturday, April 22, 2023. Cal Housing and Residential Life staff will be hosting outdoor booths and events on Cal Day; check the MAP@Berkeley Admissions portal for details. 
Visit Us Online during Cal Week: During Cal Week, April 25-27, 2023, Cal Housing will offer online information sessions to provide an overview of your housing options and answer your questions. Information about Cal Week events will be in your MAP@Berkeley Admissions portal.
Explore Housing
Get started by exploring Housing Options and finding the latest Housing Rates.
Berkeley's living communities provide an inviting home where scholars create memories, share ideas, and grow alongside friends. Make the most of Berkeley's world-class education by living on campus and alongside your peers. 
Did you know? In typical years, 96 percent of entering first-year students and over a quarter of entering transfer students have chosen university housing and the benefits that come with it.
Visit our Video Tours Page to get an in-depth look at campus residence halls and apartments.
Applying as a New Student
New students (undergraduate and graduate) will need to create a Berkeley campus identification (CalNet ID) after accepting their offer of admission. You'll need your CalNet ID to access the housing application portal. For a guide to the application, see: How to Apply: New Students.
May 2: Deadline for first-year students to apply for housing. Housing contract offers are sent by the end of May.
June 2: Deadline for transfer students to apply for housing. Housing contract offers are sent in late June.
Explore Housing FAQs for Newly Admitted First-Year Students or Transfer Student FAQs for more information.