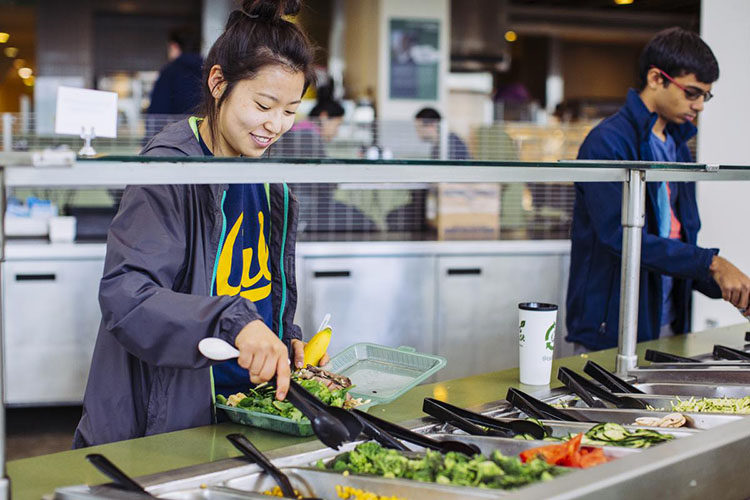 Eat deliciously, sustainably, and nutritiously.
At UC Berkeley you will be served delicious food that is nutritious and sustainable. Berkeley Dining is leading the way when it comes to sustainable food and business practices, and promoting nutrition.
Dining That Fits Your Lifestyle
Berkeley Dining is ranked as one of the best dining programs in the country. Our chefs and dietitians take pride in what's on your plate. You'll find:
Fresh, organic ingredients from local farms to your fork
Innovative menus highlighting California's diverse cultures and flavors
Locations across campus to dine in*, or grab and go
Vegan, kosher, halal, gluten-free, and allergen-safe choices
Berkeley Dining Meal Plans
Meal plans offer the flexibility, convenience, and value that you need while serving delicious, nutritious, and sustainable food. Swipe your Cal 1 Card at dining locations to access your meal plan.
Residence Hall Meal Plans
Students with a Residence Hall contract are automatically enrolled in the Blue Plan, which includes meal swipes and flex dollars. You can upgrade to the Gold Plan or Ultimate Plan for more value and flexibility. Get more for your money when you purchase Add-On flex dollars.
Off-Campus Meal Plans
Although apartment rates don't include meal plans, you have options! There are meal plans available by semester for students who live in off-campus housing or university-owned/affiliated apartments. Maximize your time on campus and minimize the hassle of what to eat with the Advantage Plan, which includes meal swipes and flex dollars, or try a similar combo plan like the Blue, Gold, or Ultimate. Or let flex dollars make it easy for you to get food on campus with a Standard Plan, Premium Plan, or Platinum Plan. Get more for your money when you purchase Add-On Flex Dollars.
Add-On Flex Dollars
Spend less and save more. Add-On Flex Dollars function like cash dollars and offer you more options to fit your life and budget. With flex dollars, you pay less than cash price in the dining commons—on average almost $5 less per meal! You can also use your flex dollars for guests at a discounted rate at the dining commons. Add flex dollars online anytime you want at Berkeley Dining.
Meal Plan Features
Eat where you want, when you want. Berkeley Dining's variety of locations offer sit-down and on-the-go options. Use your flex dollars at the dining commons, convenience stores, and campus restaurants. There's no daily minimum or maximum flex dollar usage.
Eat responsibly. Berkeley Dining reduces waste by composting, recycling, and donating overproduced food daily to local food pantries including UC Berkeley's own Student Food Pantry and Bear Pantry in University Village.
Enjoy local, organic, humane, and farm-to-fork foods. Berkeley Dining has partnered with farms and businesses to use ingredients that are locally grown, humanely treated, and environmentally and socially responsible. Locations feature plant-forward menus and serve items such as humanely-raised chicken and eggs, organic tofu, and produce grown from campus gardens.
Leave stress behind. Don't worry about grocery shopping, cooking, or washing dishes. With your busy schedule, you'll find it easy to enjoy a filling, stress-free meal. Add flex dollars or check your balances or transactions online anytime.
Dining Locations and Hours of Operation
Find all dining locations and hours of operation.