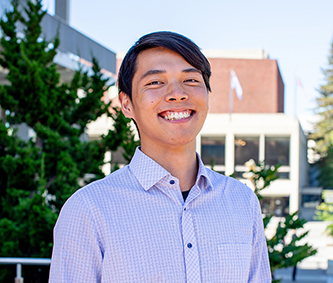 "Residential halls are such a great opportunity to meet friends. Some of the friends I met at the residential hall the first year are still my friends."
— Zhuo, Computer Science Major
Advantages of Living On Campus 
We invite you to explore what it's like to live on campus, where you can make the most of Berkeley's world-class education and campus experience. Our residence halls provide many opportunities for you to create lifelong friendships, build leadership skills, work, play, and get academic support to keep you on the road to graduation and success. 
And on top of all that, it's safe, easy, and convenient to live on campus — there are financial advantages, and there's great food too.
This At-a-Glance highlights some of the benefits of living on campus compared to off campus. To learn more about the campus experience, visit our Residential Life website.
Benefits of On-Campus Living: At A Glance
Financial
 
Living on Campus
Living off Campus
Financial Aid
Financial aid award letters are taken into account when working with students as promise of payment.

Room and Board costs are automatically deducted from student account (student does not always have to have money in hand or pay out of pocket).

Outside businesses will not consider a financial aid award letter as promise of payment. They prefer cash, check or credit/debit cards (money in hand).

Students have to wait until start of the semester before they can access financial aid funds for housing

Application requirements and costs
Enrolled students pay a $40 application fee.
Credit check required, with possible need for a co-signer.

Application fee can cost up to $49 per person.

Leases
Contracts are for the Academic Year.

Student is able to cancel a contract for several reasons:

No longer attending school
Participates in Study Abroad
Gets married after accepting contract

Approved cancellations: $300 cancellation fee.

Leasing terms vary from month-to-month to 12-month.

Very difficult to break leases, regardless of changes to student's status, and consequences can be financially severe (at a minimum, loss of current month rent and application deposit).

Leases are given to group of individuals renting apartment. If one student leaves or is unable to pay his share, remaining students are responsible for uncovered rent.
Safety
 
Living on Campus
Living off Campus
Safety
Multiple safety resources throughout campus, including:

Professional, live-in staff available 24-7.

UCPD located nearby, right on campus.

Door-to-door escort services provided by UCPD at night.

Security guard available at some apartment units.
Convenience
 
Living on Campus
Living off Campus
Cleaning
Custodial staff clean public areas and shared restrooms every day.
Students are responsible for cleaning apartments, including bathroom, kitchen.
Repairs
Maintenance staff available to assist students with basic repairs at no cost (except in cases of vandalism).
Should something in apartment break, students may need to pay to have it fixed.
Commute
Students are closer to campus, making it easier for them to participate in all aspects of campus life, including resources, services, on-campus events, libraries, and faculty visits.

Students can go home between classes and other activities.

Commuting to campus takes time, can be expensive (parking, buses, BART), and makes it more challenging for students to be fully immersed in campus life.
Community
 
Living on Campus
Living off Campus
Belonging
Leadership Opportunities
Academic Support
Activities in the residence halls make it easier for students to get to know each other and make lifelong friends.

Numerous leadership opportunities and study support for students are built into the residential hall environment.

Students can find community, leadership opportunities, and academic support on campus, but must be more proactive about independently seeking out these resources.
Interpersonal conflict resolution
Professional housing and campus security staff are available to help students resolve interpersonal conflicts. In some situations, students may request a transfer to a different room or location.
Students must resolve conflict on their own. If they can't, a student may need to cancel a lease and face financial penalties.