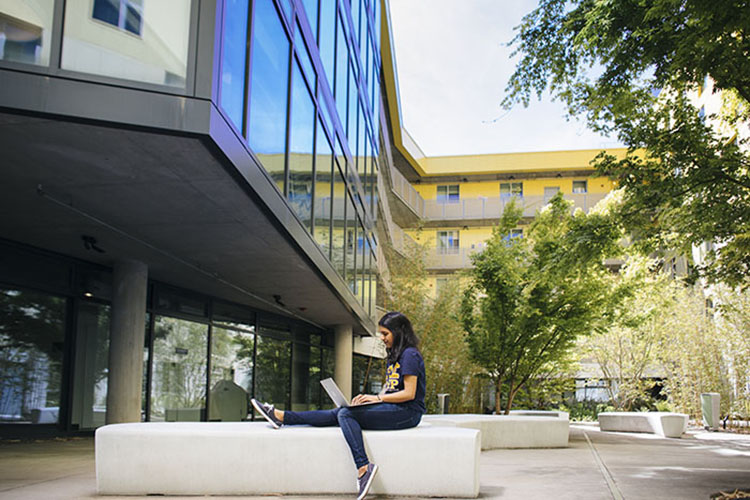 All current (continuing) UC Berkeley students have the option to live in on-campus housing during the summer! There are many benefits of living on-campus during the summer: set term contracts (reside in and pay for your specific session dates), no hidden costs (utilities included), and the convenience of living a few minutes from campus! Continuing students also have the added bonus of receiving a discounted rate during the summer. Don't miss out — apply February 1st, 2024.
COVID-19 Policies: If you live in campus housing during the summer, you will be required to adhere to public health policies designed to reduce transmission of COVID-19. 
Occupancy Dates
| Summer Session | Move-In | Move-Out |
| --- | --- | --- |
| Session A | Sun 5/19 10AM | Sat 6/29 10AM |
| Session AD | Sun 5/19 10AM | Fri 8/09 10PM |
| Session B | Sun 6/02 10AM | Fri 8/09 10PM |
| Session C | Sun 6/16 10AM | Fri 8/09 10PM |
| Session D | Sun 6/30 10AM | Fri 8/09 10PM |
Existing Student Rates
| Summer Session | Double RH | Double Premium | Double APT* | Single APT* |
| --- | --- | --- | --- | --- |
| Session A | $2,945 | – | $2,400 | $2,680 |
| Session AD | $5,995 | – | $4,920 | $5,495 |
| Session B | $5,005 | – | $4,080 | $4,555 |
| Session C | – | $4,730 | $3,240 | $3,620 |
| Session D | $2,945 | $3,645 | $2,400 |  $2,680 |
*rate does not include meal plan
Enrolled Existing UC Berkeley Student FAQs
What are the COVID-19 policies for students living in campus housing this summer?

COVID-19 Policies: If you live in campus housing during the summer, you will be required to adhere to public health policies designed to reduce transmission of COVID-19. All students living in campus housing during the summer will be required to get tested for COVID-19 upon Move-In. Unvaccinated students will need to get tested weekly, as well as self-sequester for 7 days upon arrival.

While you are living in campus housing, you are required to:

Wear a face covering that covers both the nose and mouth unless you are inside your room or apartment, brushing your teeth, taking a shower, or eating.

Maintain a physical distance of six feet or more at all times.

Respect the needs of those in your residential household grouping (students sharing the same restroom as you), follow shared community expectations, and communicate with one another regularly. Use the University Health Services best practices as a guiding point.

Only interact with students within your residential household grouping when indoors (no one else).

Do not visit the spaces of other residential household groupings, even those in your building (for example visiting other floors or other suites), unless you are using the laundry room or going to the front desk.

Respect the Residential Code of Conduct no guest policy. No guests beyond your residential household grouping are allowed in your room; this includes visitors from other residential household groupings within your building.

Follow local public health ordinances, such as wearing a face covering or physical distancing, when leaving your residence hall.

Follow testing requirements and recommendations, as shared by University Health Services.

Frequently wash your hands.
The housing portal opens February 1st, 2023, and assignments are done on a first-come, first-serve basis.
PHASE 1:

Step 1: Go to the online application home page.

Step 2: In the top left corner, click on the "Visit University Log In" link.

Step 3: Enter your CalNet ID and passphrase to log in.

Step 4: Select Summer 2023 as the housing term for which you are applying.

Step 5: Follow each step of the online application, selecting "Save & Continue" at the bottom of each page.

Step 6: Once you have completed Phase 1, your application has been submitted and is under review. You will receive an email regarding the status of your summer housing application within 7 business days of submission.

Step 7: Be sure to check your berkeley.edu or the housing portal every few days for an offer.
Gender Inclusive Requests

University housing at UC Berkeley seeks to provide all students with safe, affirming spaces to find community. Part of this is working collaboratively and proactively with LGBTQ students to insure that they feel like their floor and roommates are welcoming and inclusive, and that they have access to facilities that are designed with their needs in mind.

In addition, one of our housing coordinators, the Accommodations Coordinator, works with students in advance of their stay on campus to place them into communities designed to provide more support, often by placing them in a room with a requested roommate, with other students who also request Gender Inclusive Housing or Lesbian, Gay, Bisexual, Pansexual, Queer or Questioning (LGBPQ) Affirming Housing, or with students who self-identify as aspiring allies to the LGBTQ community.

If you are interested in requesting a Gender Inclusive or LGBPQ Affirming space, please note so in the housing application.
Individual applicants may note specific roommate preference(s) by completing the "Manage Roommate" step of the Phase 1 portion of the online application. Roommate preferences must be mutual, students must be of the same gender, and must accept a contract for the same session and room type, in order for the request to be considered by the Summer Sessions Housing Office. If your housing accommodations are arranged for you by your University, registration center, or agent, you must communicate your roommate preferences to your liaison as early as possible, in order for the request to be considered by the Summer Sessions Housing Office.
Meal Plan - Residence halls

Residence hall contracts include room and board, with a Standard Meal Plan. The contract may not be purchased without the meal plan. Meal plan flex dollars are the currency with which residents use their meal plan.

If you do not wish to have a meal plan included, please consider applying for on-campus apartments or a single room for the summer. Single rooms are only offered in Martinez Commons apartments.

More information regarding meal plans will be released on February 1st, 2023.
Session A/AD/B

Unit 1 Residence Hall
Panoramic Berkeley Apartments
Enclave Apartments
New Sequoia Apartments

Session C

Blackwell Hall
Panoramic Berkeley Apartments
Enclave Apartments
New Sequoia Apartments 

Session D

Blackwell Hall
Unit 1 Residence Halls
Panoramic Berkeley Apartments
Enclave Apartments Apartments
New Sequoia Apartments
PHASE 2:

Step 1: After receiving your housing offer, review the Terms & Conditions and accept your offer.

Step 2: You will be required to pay the $300 advance payment in order to hold your space

If you miss your deadline to accept your contract offer, there is no guarantee that the space will remain available. If you miss your advance payment deadline or fail to pay your housing bill in full by the deadline, your housing contract will be cancelled.
You will be charged for your contract no earlier than 10 days before your session start date. Billing charges align with financial aid disbursement. Please be sure to check your Cal Central account frequently so you do not miss any deadlines.
Housekeeping

You are responsible for cleaning your own room. You may borrow a vacuum cleaner from your Resident Assistant or the Front Desk. Daily housekeeping services are provided, except on administrative holidays, for the common areas: lounges, hallways, stairwells and bathrooms.

Laundry & Vending machines

Coin-operated laundry machines are available in each summer housing location.
Your room is furnished with an extra-long bed, 36" x 80" mattress, drapes, desk, chair, wastebasket, closet, and shelving. Please leave all items in your room when you check out. You will be billed for any missing items after your departure.
Personal microwaves and refrigerators are not allowed in UC Berkeley residence hall rooms. 

Students who require a refrigerator unit for a medical condition or holiday observance are responsible for submitting an accommodation request to summerhousing@berkeley.edu.

The following items are not permitted in the residence halls:

Pets, waterbeds, weapons of any kind, illegal drugs, candles, incense, flame-lit lamps, barbecues, halogen lamps, cooking equipment, your own microwaves, and refrigerators.

For non-standard accommodations regarding service animals, please contact summerhousing@berkeley.edu.
The Cal 1 Card is used to access your building and meal plan.

Use your Cal 1 Card to:

gain access into your residence halls
swipe into the dining halls/use your meal points

Visit the Cal 1 Card Office if your card is damaged or demagnetized.

Location: 212 Sproul Hall, Berkeley CA.

Hours: Monday through Friday 9:00AM to 4:30PM

Replacement fee: $25
We know that access to computers during your stay is critical to academic success. All residents are eligible to use the Unit 1 Academic Center, featuring multiple PCs and Macintosh Workstations supporting popular software (i.e., Microsoft Office Suite, Adobe Photoshop, Illustrator, etc.). These computers are also installed with a link to the campus library catalogs, email, and the Internet.

The Academic Center is located in the Central Building. Staff are available to answer questions and troubleshoot problems. You can sign up for a free Academic Center Account to use the computers.

Color ink jet printing is available for a nominal fee.

In-Room Internet Connections

A Student Technology Services welcome folder will be distributed to all residents at check-in. It will include information about getting online through Student Technology Services' services and support.

All residents are eligible for free wireless Internet connection through Student Technology Services. Student Technology Services provides wireless coverage to registered computers in resident rooms, lounges, and common areas. You will receive a Student Technology Services welcome folder during move-in, which will detail how to get connected and how to contact support services. Student Technology Services supports wireless internet connections for computers running Windows XP/Vista and Macintosh OS 10.4 or higher. Windows 95/98/Me and Mac OS 10.3 and below are not allowed on the network as they do not meet campus minimum security standards.

Security and Other Requirements

To connect to the network, you will need your CalNet login and passphrase for authentication.

All computers connected to the campus network MUST meet campus minimum security standards which require:

Updated antivirus software

Automatic software patching (e.g. Windows Update)

A personal firewall

A strong administrator password

For detailed information about the requirements and how to meet them, please visit Student Technology Services' BeSecure page.

Technical Support

Technical support is available in the following ways:

Helpdesk phone line: 510.642.HELP (4357)

Helpdesk email: sts-help@berkeley.edu

In-person Residential Computing Consultant: Make an appointment through Student Technology Services to see an in-person consultant during office hours.
Students are required to move out on the specified move out dates listed on their contract.

No late stays or extensions will be approved. Students will need to find alternative housing outside of the contract dates if their flight arrives after the move out date.
UC Berkeley is committed to providing a healthy, smoke-free environment for students, faculty, and staff. Accordingly, no smoking is permitted in student rooms or inside buildings, including lounges, balconies and breezeways, and stairways. Smoking is only permitted outside in designated areas.
To request a cancellation to your contract, you must provide written email correspondence to (summerhousing@berkeley.edu) including your full name, Student ID Number, and reason for cancellation. Cancellations are NOT guaranteed and the resident will be liable for room and board fees until a replacement is found and/or the request is approved by the Summer Sessions Housing department. Please be sure to review the cancellation policy outlined in the Terms and Conditions of Residence.