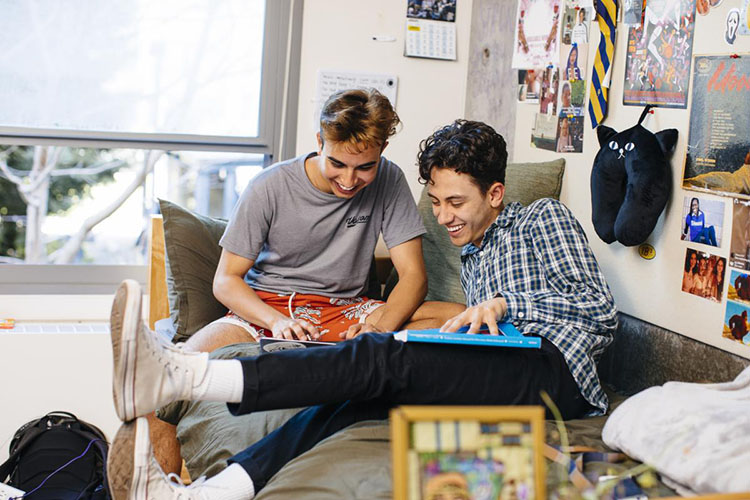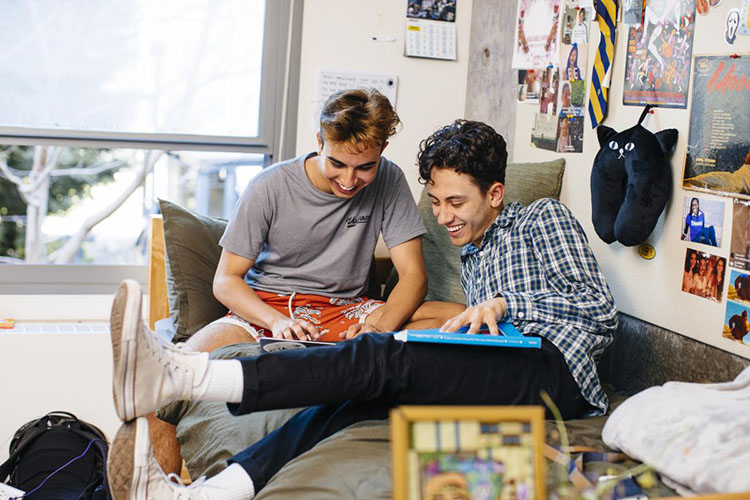 Summer 2023
We welcome all individuals in need of short-term housing over the summer to apply for Summer Transition housing. Contracts can be as short as 2 weeks or as long as 3 months. Apply beginning February 1st, 2023 for Summer Transition!
COVID-19 Policies: If you live in campus housing during the summer, you will be required to adhere to public health policies designed to reduce transmission of COVID-19. 
Application
Go to the online application home page.
In the top left corner, click on the "Visit University login page" link.
Enter your CalNet ID and passphrase to log in. Note: Non-UCB students, post-doctoral fellows and visiting scholars should first create an account using the self-registration process. Click the following link to self-register: Self-Register. Once there, click the register tab at the top of the portal page to start the application process.
Select Summer Transition 2023 as the housing term for which you are applying.
Follow each step of the online application, selecting "Save & Continue" at the bottom of each page.
Once you have completed Phase 1, you will not be able to proceed past Step 7. Your application has now been submitted. You will receive an email regarding the status of your temporary housing application within seven business days of submission.
Earliest available check-ins:
May 21, 2023

Latest check-outs:
August 12th, 2023
Properties
Located on the Southside on Telegraph Avenue, Panoramic Berkeley is a new structure only 5 blocks from the UC Berkeley Campus–just a 6-minute walk! Panoramic Berkeley offers an independent living environment in single occupancy bedrooms. All apartments are fully furnished with efficient and modern design.

For more information about this Berkeley property, please go here: Panoramic Berkeley.
Enclave Apartments — an exciting new independent-living option for continuing students and graduate students. Located at the corner of Telegraph and Haste Avenues, the Enclave building is situated amidst vibrant restaurants, cafes, shops, and bookstores. Only three blocks from campus, the building includes unique features including a Moorish Castle design with an upper and lower terrace.

For more information on the Enclave Apartments, please go here: Enclave Apartments.
Transition Housing FAQs
What amenities are included in the transition housing?

Temporary housing amenities include:

Free WiFi
App and credit card based laundry
Smoke-free and pet-free rooms
In-apartment refrigerator, oven, stove, microwave (no cookware or dishes)
Fully furnished apartments (bedroom, living, and dining areas)
How many people share a bathroom, kitchen, and living/dining room?

Single occupancy rooms (one full-sized bed) are in a two-four bedroom apartments and will share a bathroom, kitchen, and common area with up to 3 additional renters from the other room.
What are the summer rates/contract dates for housing in Berkeley?

| ROOM TYPE | 2 Week Options | 3 Week Options | 1 Month+ Options |
| --- | --- | --- | --- |
| Double Occupancy APT | $61/night | $57/night | $52-55/night |
| Single Occupancy APT | $75/night | $73/night | $67/night |

The earliest an individual can move-in is May 21, 2023. Students must move out, no later than August 12th, 2023.
Are the rooms single or mixed gender?

Depending on demand, apartments may be single or mixed gender. We will try to keep apartments the same gender as well as accommodate preferences, but you may be placed in a mixed-gender apartment. Rooms will be the same gender.
What is the cancellation policy?

After a contract is accepted, fees are nonrefundable. Individuals may appeal for their cancellation request should documentation be provided that demonstrates extreme hardship. The Appeals Board is the final decision-maker on such requests.
Check-in times will vary based on your contract dates.
Can I arrive earlier or later than the start date?

Your bed space will be available only on the start date of your temporary housing contract. You may make arrangements to check in at a later date, but you will be billed for the full duration of your housing contract.
You will be billed for the full duration of your contract even if you check out at an earlier date. Failure to turn in the key and door access will result in your account being charged.
Can I extend my housing contract past the end date?

Yes, but only if space is available. Longer-term options may be available as part of a summer housing contract.

Due to the beginning of the school year, all temporary housing occupants must move out no later than August 12, 2023. No extended stay past this time/date will be allowed.
Can I ship packages to my housing?

Once you check in to your summer housing, yes you can ship packages to your housing. Please note that any packages arriving before your start date of contract may be subjected to be returned to sender.

Shipping instructions will be provided at check-in.

Packages ordered from Amazon.com can be shipped to an on-campus Amazon locker facility three blocks away. Amazon Locker provides you with a secure self-service delivery location to pick up and return your Amazon.com packages. Amazon Prime members can order any of two million items before noon and pick up the package the same day.
Is there storage available?

No. The building does not have any storage facilities and as all apartments are furnished, space in each is tight. You should consider a local storage company for any large belongings you need to bring with you.
What is the difference between "summer transition housing" and "summer housing"?

Summer housing is designed for students enrolled in summer classes. Your housing contract will be for the duration of one or more summer sessions. Housing locations are in our more traditional residential halls (such as Units 1, 2 and 3) and a meal plan is included

Summer transition housing does not require individuals to be enrolled in summer classes and can be as short as 2 weeks or as long as 3 months. Housing locations are in apartments and a meal plan is not required. Summer transition housing is better suited for graduate students.
Costs are based on length of stay and occupancy room type.
Is a meal plan included in my summer transitional housing?

Meal plans are not included in your transitional housing. Your apartment includes a kitchen (refrigerator, oven, stove, microwave) so you can prepare your own meals. A summer meal plan is available for any student registered for summer or fall classes and not living in the residence halls.